Thank you for visiting Venn Prime Securities.
Due to your local regulation, we are not able to offer you our services.
---
How to trade Forex?
Forex trading works same as other exchanges in which you buy one asset using a currency or vice versa. In forex markets, the prices indicate how much of a currency is needed to buy another. For example, the EUR/USD rate indicates how many USD, counter currency, is needed to buy 1 EUR, base currency. When you buy a currency pair, the base currency of the pair gains value, yet selling a currency pair will lead to an increase in value of the counter currency.
Once you speculate on price movements with contract for differences (CFD) in forex markets, you use leverage, allowing you to open a long or short position for a small proportion of the full value of the trade. Contrary to non-leveraged products, you don't physically take the asset in forex market. You only take a long or short position on whether you believe the prices will increase or decrase.
Kindly note that trading with leverage can amplify your gains, yet it can also amplify your losses if the prices moves against your position.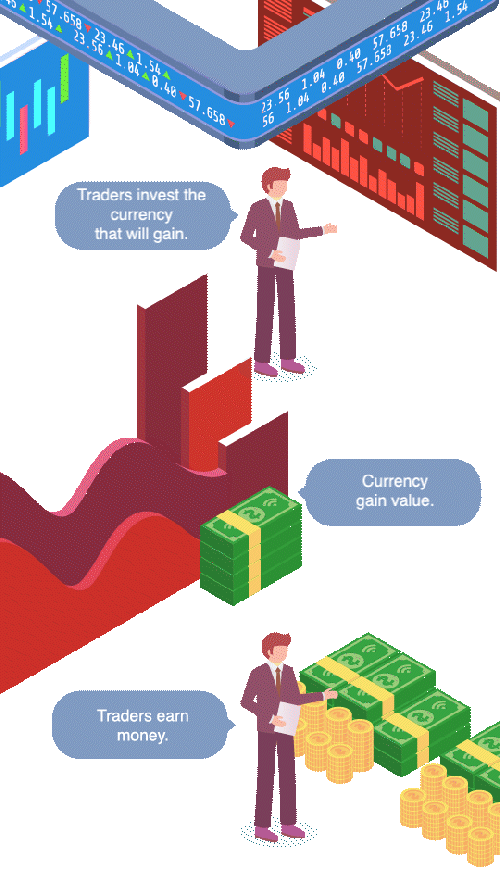 ---
Start to Trade with Venn Prime
---
| | Classic Account | Pro Account | Elite Account | | |
| --- | --- | --- | --- | --- | --- |
| Symbol | Average Spread | Average Spread | Average Spread | Leverage | Value of 1 lot |
| EURUSD | 12 | 10 | 8 | Up to 1:100 | 100 000 |
| GBPUSD | 15 | 13 | 11 | Up to 1:100 | 100 000 |
| USDJPY | 15 | 13 | 11 | Up to 1:100 | 100 000 |
| AUDUSD | 18 | 16 | 14 | Up to 1:100 | 100 000 |
| USDCAD | 18.5 | 16.5 | 14.5 | Up to 1:100 | 100 000 |
| USDCHF | 18 | 16 | 14 | Up to 1:100 | 100 000 |
| NZDUSD | 20.5 | 18.5 | 16.5 | Up to 1:100 | 100 000 |
| | Classic Account | Pro Account | Elite Account | | |
| --- | --- | --- | --- | --- | --- |
| Symbol | Average Spread | Average Spread | Average Spread | Leverage | Value of 1 lot |
| EURAUD | 24 | 22 | 20 | Up to 1:100 | 100 000 |
| EURCHF | 20 | 18 | 16 | Up to 1:100 | 100 000 |
| AUDCAD | 24 | 22 | 20 | Up to 1:100 | 100 000 |
| EURCAD | 27.8 | 25.8 | 23.8 | Up to 1:100 | 100 000 |
| AUDCHF | 22 | 20 | 18 | Up to 1:100 | 100 000 |
| GBPCHF | 24.5 | 22.5 | 20.5 | Up to 1:100 | 100 000 |
| CADCHF | 25.5 | 23.5 | 21.5 | Up to 1:100 | 100 000 |
| GBPAUD | 38 | 36 | 34 | Up to 1:100 | 100 000 |
| EURGBP | 18.5 | 16.5 | 14.5 | Up to 1:100 | 100 000 |
| GBPCAD | 27 | 25 | 23 | Up to 1:100 | 100 000 |
| EURJPY | 21.5 | 19.5 | 17.5 | Up to 1:100 | 100 000 |
| GBPJPY | 29.5 | 27.5 | 25.5 | Up to 1:100 | 100 000 |
| CADJPY | 24 | 22 | 20 | Up to 1:100 | 100 000 |
| CHFJPY | 25 | 23 | 21 | Up to 1:100 | 100 000 |
| AUDJPY | 23.4 | 21.5 | 19.5 | Up to 1:100 | 100 000 |
| NZDCHF | 30 | 27 | 25 | Up to 1:100 | 100 000 |
| EURNZD | 37 | 34 | 32 | Up to 1:100 | 100 000 |
| AUDNZD | 30 | 27 | 25 | Up to 1:100 | 100 000 |
| NZDCAD | 27.5 | 24.5 | 22.5 | Up to 1:100 | 100 000 |
| GBPNZD | 42 | 39 | 37 | Up to 1:100 | 100 000 |
| | Classic Account | Pro Account | Elite Account | | |
| --- | --- | --- | --- | --- | --- |
| Symbol | Average Spread | Average Spread | Average Spread | Leverage | Value of 1 lot |
| USDSGD | 26.5 | 23.5 | 21.5 | Up to 1:100 | 100 000 |
| USDNOK | 440 | 390 | 360 | Up to 1:100 | 100 000 |
| EURSEK | 440 | 390 | 360 | Up to 1:100 | 100 000 |
| USDMXN | 460 | 410 | 380 | Up to 1:100 | 100 000 |
| USDPLN | 380 | 330 | 300 | Up to 1:100 | 100 000 |
| USDDKK | 230 | 180 | 150 | Up to 1:100 | 100 000 |
| EURNOK | 430 | 380 | 350 | Up to 1:100 | 100 000 |
| USDSEK | 400 | 350 | 320 | Up to 1:100 | 100 000 |
| USDZAR | 500 | 450 | 420 | Up to 1:100 | 100 000 |
| EURTRY | 972 | 968 | 966 | Up to 1:100 | 100 000 |
| USDTRY | 847 | 843 | 840 | Up to 1:100 | 100 000 |